Shafts, rings and more – the traditional forge produces for customers all over the world – Commitment and lived solidarity
It hits you like a hammer when you first step into the hall: noise and heat and the red-hot glow of the workpieces that the gripper takes out of the furnace and puts down for forging. It is only in the finished parts warehouse that one comes halfway back to one's senses. Here, where the cooled, measured and quality-checked shafts, rolled rings and open-die forgings are stacked, one swims in calmer waters. "We operate in such a way that when the customer comes in, he doesn't have to wait. Reliability comes first." Finally, you understand something again.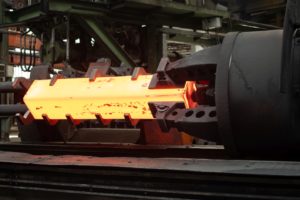 The long forging machine is the queen of the shop. At five-minute intervals, red-hot steel blocks are stretched and upset, forged all around and ejected as a shaft blank. Anyone who experiences this powerful monster "up close" for the first time and is present when a steel block is formed into a wave blank is shocked by the speed, impressed by the precision and stunned by the noise. "That's just the way it is in production," laughs a colleague who should know and works with noise protection.
Outside, a 40-ton truck is just leaving for Bochum or Ilsenburg, where the pre-turned shafts are finished, i.e. turned to size and prepared for wheelsets. The people of Brand-Erbisdorf are proud of their contribution to the overall result. And rightly so. Shaft forging is just as demanding as wheel forging – here as there, the "knack" for the steel and the right heating point are decisive for the quality. This is important if the shafts are to run for millions of kilometers without complaint. The people of Brand-Erbisdorf have the knack, and customers all over the world know it. Quality and flexibility are key words in Brand-Erbisdorf: From the selection of the steel ("The material is decisive") to the setup of the forge ("This saves us expensive steel") and the right furnace and tempering temperature during heat treatment to the seamless quality inspections ("We are proud of this"), production is a well-rounded affair.
production is a well-rounded affair. And it can be quickly converted to other formats at any time, if the customer wants. After all, flexibility is a must in this business.